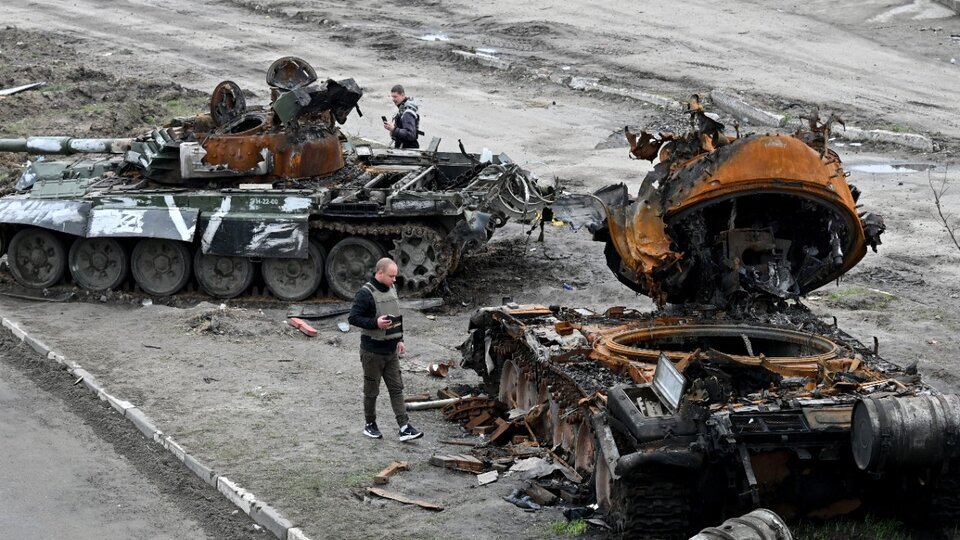 More than 80,000 Ukrainians have sought asylum in the United States since April
More than 80,000 Ukrainians have taken refuge in the United States since April, the U.S. Citizenship and Immigration Services said Sunday, most of them through a program that allows Ukrainians to live and work in the country for up to 18 months. They have a sponsor who guarantees financial support.
U.S. officials have certified that 177,000 people have the means to provide such assistance.
Russian bombing kills at least two in Kherson region
At least two people were killed and five wounded in a Russian airstrike against the Kherson region in southern Ukraine, its governor said on Sunday.
Kyiv forces recaptured Kherson in November in a counteroffensive. The Moscow army retreated to the left bank of the Dnieper River.
"The enemy has again attacked the residential areas of Kherson," Governor Yaroslav Yanushevich said in his Telegram account. The Russian military shelled a maternity hospital, a hotel and residential buildings.
"Overnight, two people were killed by Russian shelling", Yanushevich said. The total was "45" and there were five injuries, he added.
After retaking Kiev in November, Russian forces shelled and destroyed infrastructure.
Power was "90%" restored, the governor described.
Russia may adopt the doctrine of preemptive strikes
Russia said today it was preparing "more powerful means of destruction" based on "new policies" that could attack countries that supply arms to Ukraine, after warning it could adopt a doctrine of pre-emptive strikes by the United States.
"Our enemy has not established itself only in the Kiev government (…)," former president and former prime minister Dmitry Medvedev, number two in the Russian Security Council, said in a message on Telegram.
"This includes Europe, North America, Japan, Australia, New Zealand and places that swore allegiance to the Nazis," the official continued, emphasizing the Russian position that the Ukrainian government was made up of "Nazis".
"That is why we are increasing the production of the most powerful means of destruction, including those based on new principles," he added, without giving details, AFP news agency reported.
The comments came after President Vladimir Putin said Russia could accept the US defense doctrine of pre-emptive strikes against enemy countries and that it already has the weapons to do so.
Putin, who attended a summit in Kyrgyzstan last Friday, has no qualms about speaking openly about America and its doctrine over the past few years.
For years, the Kremlin has expressed concern over US efforts to develop a conventional prompt global strike capability.
This capability can strike enemy strategic targets with precision-guided conventional weapons from anywhere in the world within an hour.
"Talking about an unarmed attack, it is necessary to think about the ideas developed by our American colleagues, to adopt their ideas to ensure their security," Putin said with a light smile.
The President indicated that such a pre-emptive strike would be carried out to destroy command facilities.
Fears of nuclear war have resurfaced since the Russian offensive in Ukraine began in February.
Recent Russian military setbacks thanks to NATO military support for Ukraine have raised fears that Moscow may consider returning to its nuclear arsenal.
In Kyrgyzstan, Putin said Russia had already ordered hypersonic weapons capable of preemptive strikes, and the United States had yet to deploy them.
He added that Russia now has cruise missiles that surpass its American counterparts.
While Putin appears to be referring to conventional precision-guided weapons when discussing the possibility of mirroring US strategy, he specifically noted that Washington has not ruled out the first use of nuclear weapons.
"If a potential adversary thinks they can use the pre-strike doctrine and we don't, ideas like this make other countries think about threats to their defense posture," he said.