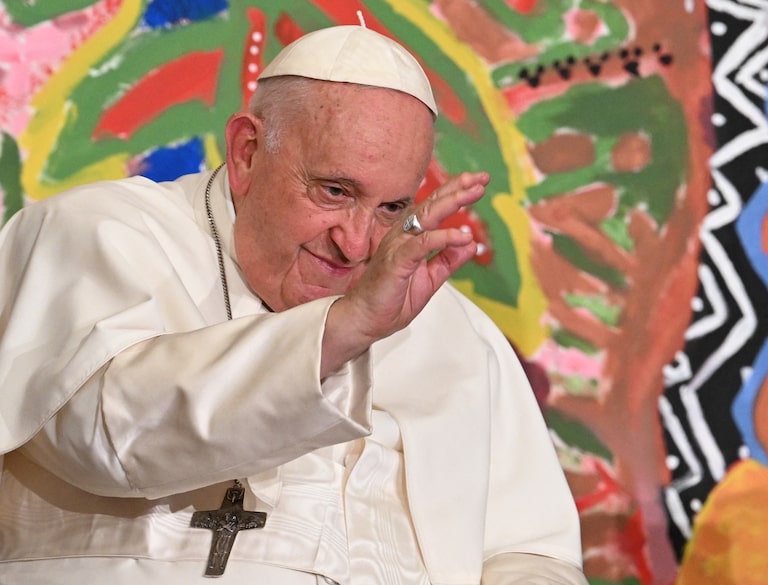 ROME.- On a national date and the tenth anniversary of the educational movement Scholas Occurrentes, Pope Francis has confirmed his desire to visit Argentina next yearHe advanced in conversation with Joaquin Morales Sola a few weeks ago.
"Next year is my idea, let's see if it can be done"He said when asked by the host of the event about the possibility of visiting his country in 2024.
In a video conference at the Aula Magna of the Augustinian Patristic Institute, a few meters from the Vatican, the Pope also Spoke to the community of Scholas del Barrio 31of Buenos Aires, and blessed the opening of the new headquarters of UBA's CBC working there.
Together with Scholas founders, José María del Corral and Enrique Palmeyro, he recalls that in 2001, when he was archbishop of Buenos Aires, the seeds of the current educational movement were sown. Scholas Accorendus works for a culture of encounter through a network of more than half a million schools around the world.
When a young woman from Barrio 31 asked him how this experience of being born in Argentina could spread around the world, the Pope explained with a sense of humor what they were aiming for. "They go where the problem is, they go with them, they end up with the same problem, they don't explode, they are free," the Pope replied, praising the educational network.
"Beware of pirates coming into town", He joked after blessing the new headquarters of the UPA's CBC.
In front of about 200 people, the Pope also interacted with communities in the Colombian Amazon, Mexico and Spain, from where, based on questions, he left definitions on various topics.
"Love should not be commercialised, boys should not be used. You should educate boys and prepare them to know what real love is. Porn is the worst commercialization of love," he said.
When asked how Violence crisis in America, recalled the Pope, "to identify, define and help emerge from a crisis." "You don't get out of a conflict because it's closed. From a crisis you do, you don't get out of a crisis alone, you get out together. You get out of a crisis or better or worse." he added. "Unfortunately, some of the measures taken do not help to get out of the crisis, but rather make it a little more complicated," he commented.
Another question came from an elderly woman who lives in a tenement in Granada where old and young people live together. Francisco remembers his grandparents.
"I had the grace to keep my grandparents alive until my old age. We are immigrants, I was born and lived a few meters away from my paternal grandparents house. My grandmother took me with them as I was the eldest of five brothers. I spent the morning listening to their language. I had deep conversations with them, and there, listening, I learned the values ​​and the feeling that you have to go back to your roots," he said. "A society dries up if it doesn't talk to its roots. The young cannot be without roots, and the old have no right to die aloneHe added, recalling visiting nursing homes as archbishop of Buenos Aires. "The old should not be saved, the old should pass on wisdom to the young," he asserted.
Francisco finally closed the first game after being welcomed by the head of Napoli who gave him the shirts and ball of the soccer team Aurelio De Laurentiis and Argentinian player Giovanni Simeone who recently won the "Scudetto" title. World Congress of Educational Eco-Cities, which started last Tuesday and ended today, was organized by Scholes and the Development Bank of Latin America (CAF) and was attended by 50 Ibero-American mayors. He congratulated the assistants who received their diplomas one by one. Various mayors of Argentina: Bettina Romero (Salta); Luciano di Napoli (Santa Rosa); Marina Lesky (Lomas de Zamora); Maria Emilia Soria (General Roca); Marisa Fassie (Canulas); Raúl Emilio Jatón (Santa Fe); Leonardo Bodo (Lujan).
The conference, which featured various special workshops such as the Nobel Peace Prize, Ricoberta Mensu and economist and senator Martin LustioBased on the educational system developed by Scholas and the experiences that come, "Laudato sí" – in maintaining the common house – had the objective of promoting sustainable development within the framework of the concept of "integrated ecology". Conducted by youth from various communities.