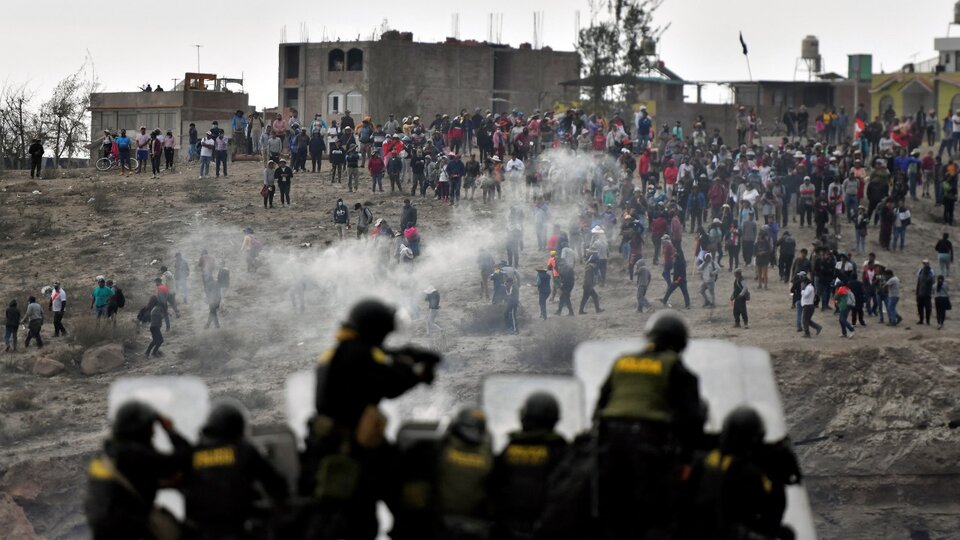 Peruvian police and military foiled an attempt to seize Arequipa airport on Thursday., the country's second city, by protesters demanding the resignation of Peru's president, Tina Bolvarte. At least 200 protesters entered the Alfredo Rodríguez Ballón airport, breaking down metal fences around the perimeter, and police officers responded. Tear gas and pellets10 leaving the balance Another part of the city was injured and one person died.
An aircraft and armored vehicles of the armed forces took part in the control operation at the airport to prevent the demonstrators from reaching the landing area or any part of the administrative areas. The Interior Ministry tweeted, "Police thwarted an attempt to take over the facilities of the Alfredo Rodríguez Ballón airport. A gang that attacked troops stationed at the airport was repelled using corporate protocol."
In the morning, the Ministry of Transport and Communications announced the closure of the airport "to protect the integrity of citizens and the safety of aviation operations", after the first clashes were recorded earlier in the day. Cuzco airport also suspended operations due to the protests and local media reported another attempted attack at Juliaca airport in the south of the country.
Around 1,500 people gathered around Arequipa airport, while in the Plaza de Armas in the center of the city, thousands of other protesters rallied. In this demonstration, a group of traders marched with Black balloons. Claims were similar to the rest of the country: Resignation of President Polwart, Closure of Congress and Progress of Elections.
"We are not afraid, we are demonstrating peacefully, we have already spoken with the authorities, so there is shelter, with the police to protect us, we believe that even if our march is peaceful, one of the other sectors will be," said Renzo, coordinator of the Arequipa Coalition for Peace and head of the Arequipa Democratic Front. Estrada said in reports to the El Puho portal. Estrada explained that the purpose of the invitation is to call for integration, and as a final touch, the national anthem of Peru and Arequipa will be sung in the traditional Plaza de Armas.
In addition, civil construction workers blocked one of the accesses to the so-called Ciudad Blanca and confronted police as agents arrived to clear the area using tear gas. As a result of these clashes, four demonstrators were injured and referred to Arequipa Regional Hospital.