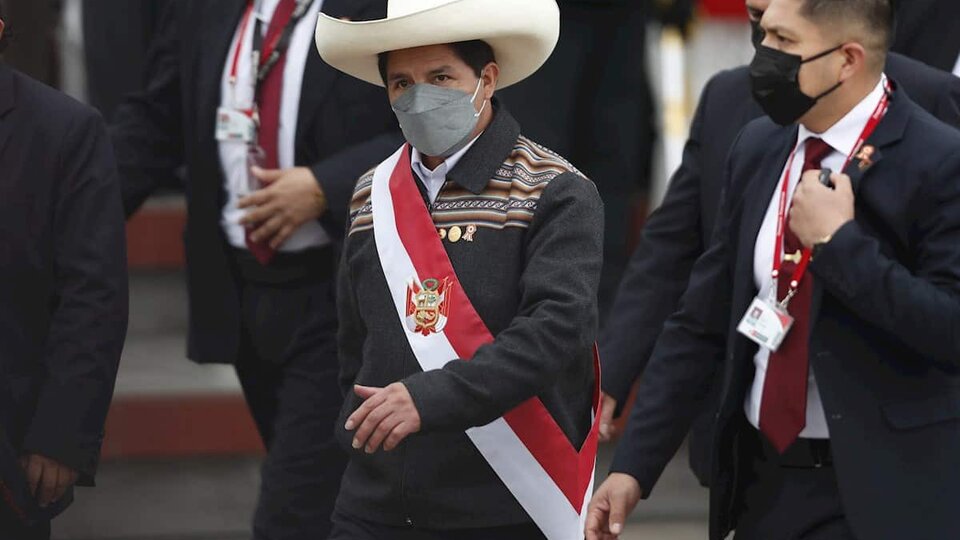 From Lima
This Tuesday Peruvian democracy plays an important day. On that day, the far right will seek to recognize the demand for a start in Congress A brief process against President Pedro Castillo, who took office four months ago, Should remove him from office. The "permanent moral incapacity" of the rural teacher and trade unionists, whose surprise election victory led the government to the left and rocked power groups and right-wingers, is now accused of anticipating its downfall. Three groups of far-right, including Fujimori, are promoting a parliamentary coup, With important Media approval. These departments tried to ignore Castillo's election victory against Keiko Fujimori, but they failed and maneuvered to remove him from the presidency from the first day of his government.
This requires 52 votes, 40 per cent of the 130 legislators want to give the green light to the debate on the President's vacancy (removal) proposal for "moral incapacity". If you get those votesCastillo will face a brief process in the coming days that will last two weeks and will not go into the events of the political investigation. The vague accusation of "moral impotence" should be interpreted as determining the interests of lawmakers. S.They need two-thirds, 87 votes, to carry out the coup, which was promoted by the far right. According to a study by the Institute of Peruvian Studies (IEP), 55 percent opposed the removal of Castillo, who won the presidency with 50.12 percent of the vote.
Recent calculations show that there is a good chance that those who plotted the 52-vote ban will bring Castillo to Congress and oust him. The three benches promoting the coup will add 43 votes and have the support of legislators from other right-wing groups. Failure to reach those 52 votes would mean a major defeat for the coup. Analysts agree that it would be difficult to get 87 votes if one were fired.. But Peruvian politics has already proven its appeal through unexpected results. The ruling Liberal Party (PL) and its progressive allies, Together for Peru, added 42 votes, two less than the 44 needed to neutralize the charge against Catillo. They will be joined by three votes of the centralist purple party that has already spoken out against the removal of the president. But lawmakers from the PL's far – flung faction, led by its general secretary Vladimir Seron, who has accused Castillo of being neutral, have not rejected the coup plot and have said they "evaluate" it. The position they take, so that opens up the opportunity to support her, is suicide.
A month ago, 16 PL legislators rightly voted against a no-confidence vote in the cabinet. The four center-right and right-wing benches, with a total of 41 votes, initially spoke out against the vacancy, but over time many of their legislators changed their position and are not sure how these benches will vote.
Meeting with the parties
In an effort to neutralize the parliamentary conspiracy, Castillo has begun meetings with party leaders. It was rejected by far-right groups promoting his dismissal Call to conversation, Others accepted it. Those meetings begin Friday and continue today, Monday. After speaking with the president, there were statements by opposition leaders in support of "rule and democracy."
"Moral Disability"
The right-wing accuses Castillo of "moral incompetence" for allegedly pressuring the promotion of five players who were not promoted, which is under investigation and trial by two generals after retirement; Castillo is under investigation for a complaint about illegal funding for a non-included PL campaign; The moves of his former secretary Bruno Pacheco – who found $ 20,000 in the bathroom of his office in the government palace in a financial intervention – in favor of some companies before tax officials, he has already been ousted from his post; For an alleged relationship with government officials to "terrorism," an accusation through appeals, without evidence, is made by right-wingers generally against left-wingers; Absurd statements such as "moral incompetence" have been added to re-establish diplomatic relations with Venezuela.
Government errors, compromise complaints and delayed reactions weaken Castillo in the midst of this severe crisis. In recent days, the president's situation has been exacerbated after a television program revealed that a friend who lived during the presidential election campaign was holding meetings outside the official agenda at a home in Prana. Takes office. This case led to talk of "parallel agenda" and "secret meetings". Most of those meetings were meetings with ministers and congressmen, no strange or dubious meetings, although it is questionable whether they took place outside the official agenda, but one of those meetings at Preena's house was with a federation of businessmen involved, which was a success. Tender for construction of bridge. This is a meeting involving Castillo, which has not been explained. The president admitted to the mistake, but did not engage in corruption.
The brief removal of the president due to "moral incompetence" has been a source of instability in recent years. Because of that Pedro Pablo Kuczynski -PPK- fellHe resigned in December 2017 – one year and four months after taking office – but three months later resigned when he was convinced he would lose his second resignation. His heir, Martin Viscar was fired in November 2020, Two months after missing out on the first call to remove him from the presidency due to "moral incompetence". Viskara's dismissal sparked massive protests, dismissing allegations of a parliamentary coup and forcing him to resign five days after his successor, right – wing legislator Manuel Merino. Now, once again, the threat of parliamentary coup and instability appears, and the recollection of street protests and brutal repression risks recurrence if a coup d'tat ends. 75 percent rejected Congress.