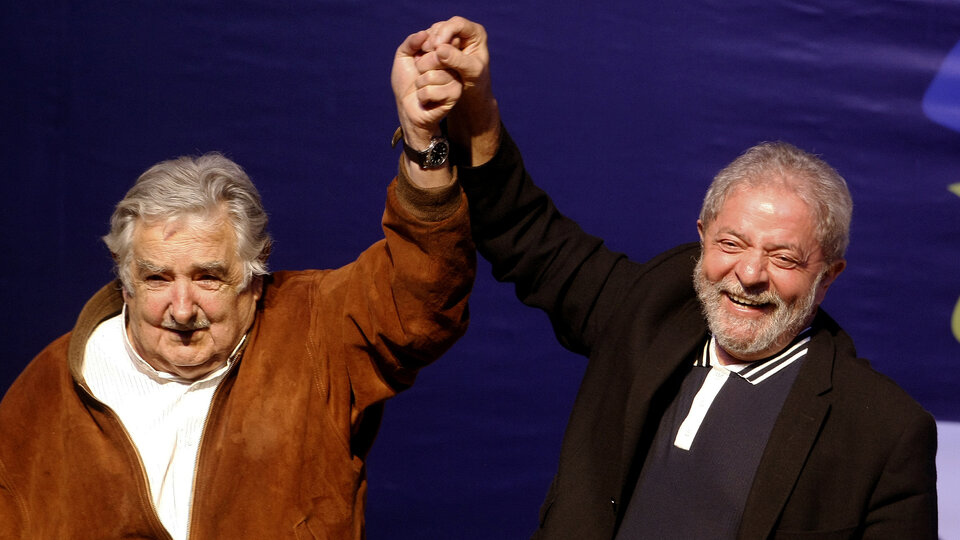 Lula, dear fellow president,
I wish the leaders of our region success in your endeavors. I think it's important to create space for meeting, mutual knowledge, dialogue and reflection, which you called a "retreat". Presidential meetings are commonly called "summits," but there are no summits without mountains to lean on. Those mountains are our towns.
The retreat creates a historic occasion where the height is set by the magnificence displayed by the participants. From there the mountains will move, and the tall rural mountain range will grow like the Andes, a symbol of the unity we seek. The big decisions that move the world are made elsewhere, far away from our desks. For us to speak internationally, it is necessary to build rapport in our region. The challenges we face as humanity require joint efforts and innovative proposals more than ever before.
As you know, we have had two meetings with ambassadors of South American presidents. I saw some of those social and political fighters. We carry with us over a century of imprisonment and exile, decades of experience in national governments and social organizations, an entire life dedicated to improving the living conditions of our people.
But since then, the Bolivarian dream of federated republics, forgotten by time, we have failed for two centuries trying to achieve regional integration. We have enough experience to not repeat the mistakes of the past.
It is not enough to be united, we must walk together, and if sometimes we cannot, we must leave the doors open, and if possible, return. We need to build a progressive consensus that doesn't paralyze us, and include those who are in a position to step up and then make those decisions.
Repeating failures is not wise. Innovation doesn't just come from technology. We can also innovate in the way we act as political and social activists by taking into account all that we can't, don't want to, and don't know how to do. Build without imposing.
I would like to briefly share some thoughts. Consider this a modest contribution to a support group. We have no pretensions or expectations, we know that this is the weight and responsibility of those in government. We work to support and protect ourselves. They are not questions of left, right or center, but of developed or not.
Regional integration is a goal. This path leads through the proliferation of cooperation projects between two or more countries in the region. There is a comprehensive and statutory list of projects included in recent regional meetings.
We believe that projects should in some way strengthen continental unity and awaken a sense of belonging. We think they should work with people. We believe it is essential that they are created with a unified vision that represents the needs, values ​​and aspirations of our people.
For example, a permanent platform for rapid regional response to natural disasters; Energy integration and development of regional infrastructures; Keep an eye on industrialization and manufacturing complementarity as a region. Facilitating trade by developing uniform forms for transactions with our own currencies, agreeing on better customs procedures and necessary sanitary and phytosanitary harmonization.
They are examples of achievable goals. Starting with what is possible, encouraging projects that we can implement to achieve what is desirable. For this we have a wonderful instrument like CAF as Development Bank.
Movement of citizens should be facilitated. Student exchanges and the validation of diplomas should be plentiful, multiplying the meeting spaces between the new generation, whose future is now at stake.
We must unite in the protection of fresh water and the protection of nature. All of us, from all corners of the continent, identify with the life that the Amazon represents, with the majesty and dignity that the Andes evoke, with the abundance and freedom of the grasslands and the riches of the depths of our lands.
Integration is not only the product of the vision of intellectuals and politicians, but also the product of the consciousness and collective imagination that knows how to create. Intellectuals and scientists think, people think, for that we need dates, a flag and a name, even a song.
If people don't have power we will continue the same. We must create mystery because it is a struggle for another culture, something we have not achieved.
Until now, when it comes to integration, we have been completely Phoenician, how much I sell you, how much you sell me; And the Phoenicians, who were mighty traders, did not develop any civilization.
As a step towards the goal of integration, on one day a year, across the continent, all schools can dedicate themselves to this topic. In Portuguese, Spanish or your local languages. Each in his place and all together.
Moving forward in integration means putting passion, faith and knowledge in our people.
Two organizational themes are useful to us:
We think communication between presidents should be fluid and frequent so that they can speak directly to their counterparts when they see fit. Every president or member of his immediate circle should have a way of communicating easily, informally and quickly with his colleagues.
Someone in the cabinet or close to the president should have the function of monitoring the progress of two or more countries in the region, providing information, addressing obstacles, listening to the people, and monitoring related projects. This person will fulfill the function of "coordinating secretary" and should be active in motivating the relevant state authorities.
Our representatives in international forums must carry the previously agreed positions and proposals, conveying the message that we are a region that cares for its common interests. It is desirable that our presidents incorporate references to the region in every speech at the national and international level.
Dear Lula,
The set of global crises we are experiencing will lead to the collapse of the essential conditions for life on the planet. Climate change, the crisis of the dominant economic model, the outdated international order and major polarizing forces will require multiple efforts. All we can do to avoid passive victimhood and give ourselves a chance at a better future is to join forces.
We recognize your leadership and effort, which encompasses more than the region and encompasses the message of peace.
At 88, the ability to dream of a different America gives life more meaning.
Best wishes to all participants in the retreat, and sending you a brotherly hug, your friend and comrade,
Pepe.