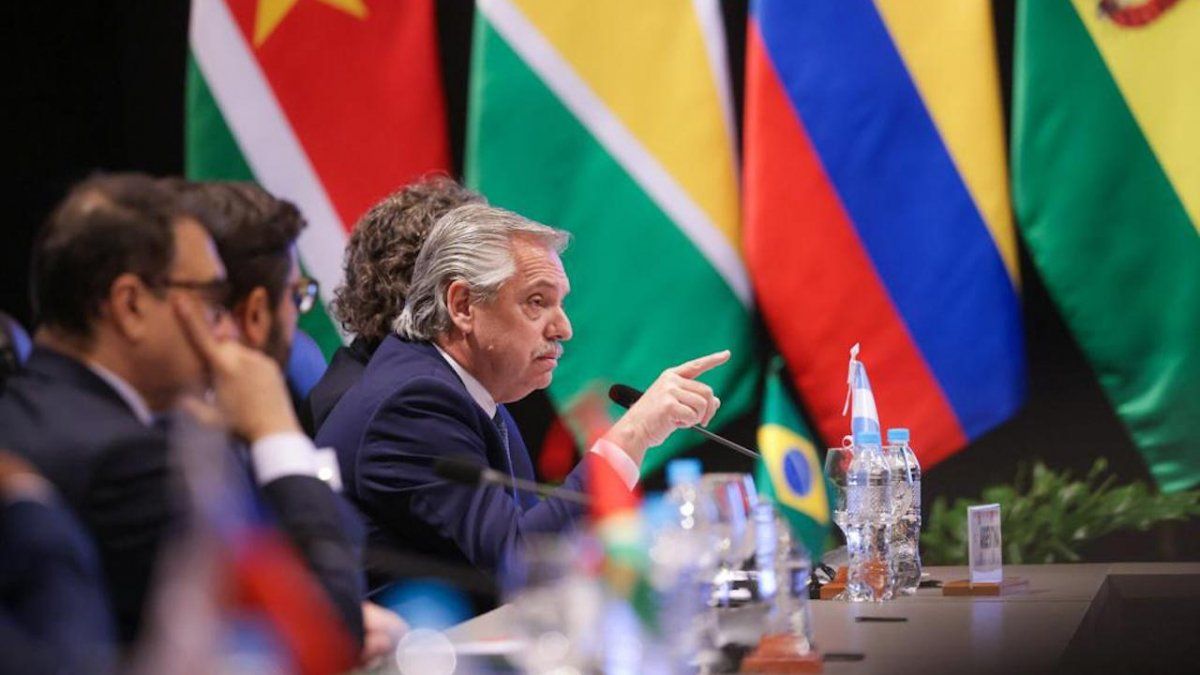 Argentine Ministry of Foreign Affairs Sources Foreign Minister, Santiago cafieroand Secretary for International Economic Relations, Cecilia TodescaThey will earlier travel to Uruguay's capital to attend a meeting of foreign ministers.
As Argentina's foreign ministry noted, President Alberto Fernández will try to "strengthen regional supply chains in industry, food and energy" during his leadership of the camp.
Summit Montevideo, It will indeed be the last of an era of the far right, which begins with a meeting of foreign ministers on Monday Jair Bolsonaro -probably absent from the meeting- and a prelude to a new Mercosur with Lula da Silva as Brazil's president from January 2023, along with an internal reboot of the bloc that Argentina wants. Along the same lines as Casa Rosada, it seeks "discreet" business relationships with third parties.
Tension in the block
Political tension will continue to simmer for months, based on the fact that Argentina's president is committed to deepening the trade mechanisms of the regional bloc. His Uruguayan counterpart opened an internal rift by trying once again to close a free trade deal outside Mercosur.
Uruguay's government this week announced its intention to join the Trans-Pacific Partnership (which includes countries such as Peru, New Zealand and Australia), prompting formal complaints from three of its trading partners, Argentina, Brazil and Paraguay. It is "unilateral" and contrary to the laws governing relations within the regional bloc.
For this reason, diplomatic missions Argentina, Brazil and Paraguay issued a joint statement on November 30 rejecting the talks held by Uruguay's foreign ministry..
Thus, Mercosur entered A New Institutional Crisis Another occasion resulted from Lacalle Pou's political decision to announce negotiations with China to close a bilateral agreement excluding its partners from the regional bloc.
A few days before the start of the new summit of the leaders of the regional bloc, they set aside the opportunity to "take measures to protect their interests in the legal and commercial fields".
Argentina's position on Mercosur
"For Argentina, Mercosur is the main instrument of international economic integration and constitutes a real state policy", diplomatic sources revealed, citing the reason they consider it an "international projection platform par excellence" for the country. In this context, they considered it The regional confederation was "the most successful integration process in Latin America in its entire history"That is why it must "consolidate its future based on the synergy between internal issues and the external agenda."
"Coalition decisions must be taken by consensus of member states. As a solid coalition we have a greater capacity to negotiate collectively with the rest of the world.", evidence from the Palace of San Martin was emphasized. In this line, they asserted, "It is important to open relevant markets without taking on unfulfilling commitments through a unified business vision and the ability to coordinate to focus on each of our national interests."
Based on the economic transaction, the consulting sources said "Intra-Mercosur trade in 2021 was 41,000 million dollars, which shows an increase of 42% compared to 2020 and 24% compared to 2019." "This is the highest value since 2014 and is essentially explained by the exchange of high value-added goods," they pointed out to NA.
Regarding the regional bloc's trade with the rest of the world, they explained "Record volume of 598,000 million by 2021". "The camp continues to be the most important commitment of the democratic governments of the region for more than three decades, going through a war and an epidemic in Europe. As a process of integration, it is dynamic and must adapt to new realities. Global environments ", they analyzed.