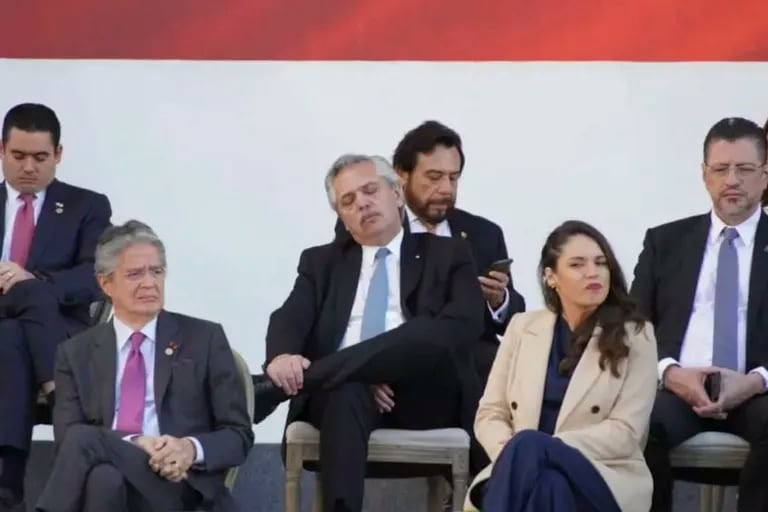 El presidente Alberto Fernández participó ayer de los actos de asunción del flamante presidente de Colombia Gustavo Petro, the first leader of the left to occupy the first magistracy in the history of the South American country. Durante el acto, se vio al presidente Argentine cansado y hasta fue fotografiado en un momento en el que parece haberse dormido. Sucedió mientras su par colombiano daba su discurso.
Gabriela Cerruti, portavoz presidencial, dijo que "no es cierto" que Fernández se haya dormido.
Antes del acto, Fernández had tenido un encuentro mano a mano con Petro. "Estamos en Colombia acompanando al presidente Gustavo Petro en su toma de mando", wrote Fernández on his Twitter account.
A los actos, que se realizaron en la plaza de Bolívar, asistieron también el rey Felipe VI de España; los presidentes de Chile, Gabriel Boric; de Ecuador, Guillermo Lasso; de República Dominicana, Luis Abinader; de Panamá, Laurentino Cortizo, and the president of Honduras, Xiomara Castro, among other mandates, as well as representatives of international organizations, and world leaders of diverse fields.
Tras la ceremonia de asunción de las authoridades colombianas, los Jefes de Estado se trasladaron hacia la Casa de Nariño, sede de la Presidencia de Colombia, para el saludo protocolar a las delegaciones foreigneras present. Prior to the act of asunción, Alberto Fernández expresó a través de esa red social: "Las opportunidades de juntarnos entre países ermanos y gobiernos democraticamente elegidos nos permanente dialogar sobre temas de interes y objetivos comunes para fortarer la integración latinoamericana".